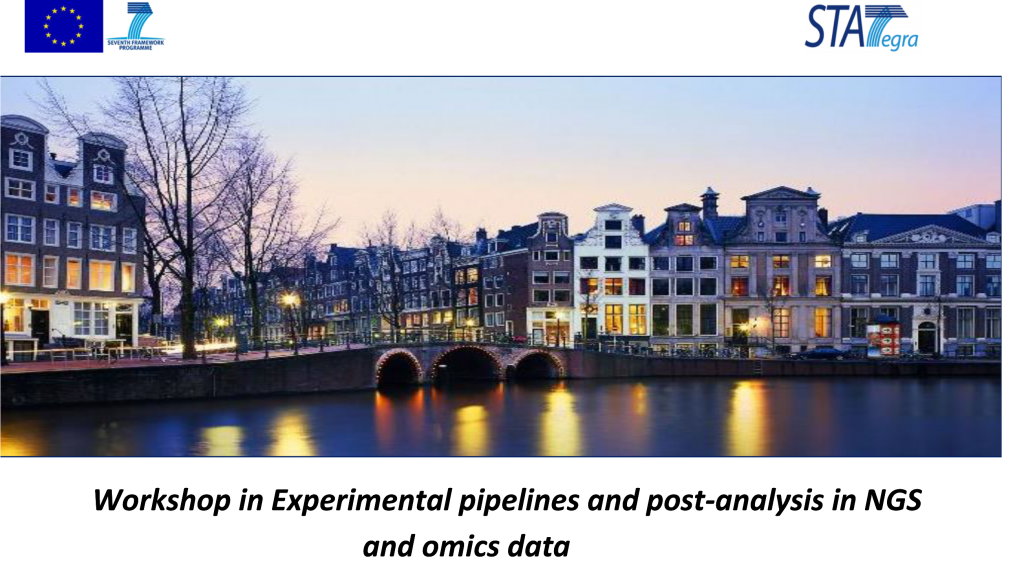 The STATegra group is pleased to invite you to this workshop. The event will take place in Amsterdam, Netherlands, from 24 to 25 March 2014 and hosted by the University of Amsterdam. The workshop will cover all aspects of "omics data" acquired through NGS technologies with a special emphasis on Experimental tools and Methods. Research activities of the STATegra "experimental" partners and collaborators will be presented in the form of invited lectures.
What are the topics?
RNA-seq
DNA-methylation
miRNA
ChIP-Seq
DNase-seq
Metabolomics
Proteomics
B-cell experiments
What is the expected audience?
This workshop targets experimentalists. They would discuss all the experimental techniques, detailing pipelines, quality controls and main bottlenecks in each analysis. Speakers will share their experience and learning processes.
What are the learning goals?
Best-practices and guidelines in every experimental methodology
Best-practices and guidelines in experimental design
Main challenges and bottlenecks in each technique
This workshop is an exciting opportunity for external people to the STATegra consortium to learn more about the "Omics Data".  The participation fee is 50€ and you can register here:
 https://docs.google.com/forms/d/11CaVImvEr5aX9elPHedFF1mVSh-AGVlGyvDy5Fdhs20/viewform
 We are looking forward to meeting you in Amsterdam in March 2014. Save the dates!